Bowland Explorers find their Founder!
Since summer last year various branches of the Bowland Explorers' Club have been gathering clues to the whereabouts of their founder, Gertrude Fulshaw Smythe, and discovering Bowland at the same time.
Intrepid explorer Gertrude set off on her travels 50 years ago and has proved very elusive since then!  However, success came on 12th March when over 200 Bowland Explorers gathered at Gisburn Forest Hub and put in a concerted effort to track down their wayward leader.
Suitably hatted and booted, scores of families set out with journey sticks to follow the forest trail where they encountered exotic bird species, a hidden doorway, giant flowers and bog dogs amongst other fantastical surprises. 
All their hard work paid off when Gertrude finally appeared from the depths of the forest to a very noisy reception!  The hungry explorers were then treated to a well-deserved feast back at base.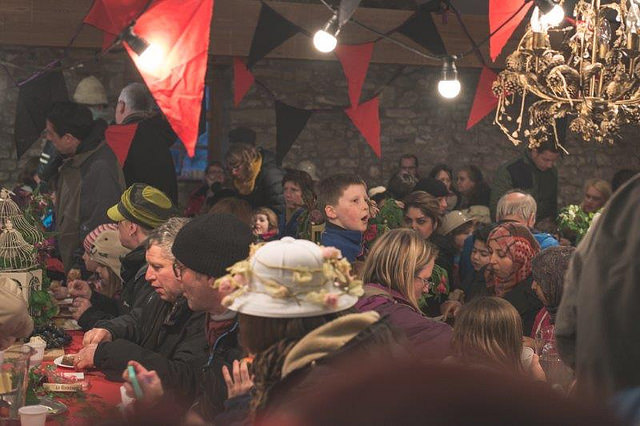 The event, which was delivered by Wild Rumpus, was the culmination of Bowland Revealed, an Arts Council England funded programme which began in 2014 to celebrate the 50th anniversary of the designation of the Forest of Bowland AONB.
The programme has been managed by Mid Pennine Arts and additional funding has come from Lancashire County Council Arts Development Service, the Forest of Bowland AONB and Ribble Valley Borough Council.
During its lifetime, Bowland Revealed offered a whole range of creative experiences and opportunities, from Green Close Studio's Fifty Years in the Making exhibitions and workshops to MPA's Landmarks – a series of temporary, outdoor sculptures – and their Explore & Engage programme of visits and festival encounters.
The steering group would like to thank all the partners, agencies and landowners who helped to make this golden anniversary project possible.  Here's to lots more Bowland exploring in the future!
(Many thanks to MPA for the images used in this update. For more pictures of the recent Wild Rumpus event at Gisburn Forest, and each of the Bowland Explorers' Club sessions, go to Mid Pennine Arts website at http://midpenninearts.org.uk/bowland-explorers)
---
Bowland Reveals a Rumpus!
The Bowland Explorers' Club will be hosting a very special meeting this spring – a fantastic finale to all the artistic discovery they've been encouraging since last summer!
Theatre company, Wild Rumpus, will be creating fantastic stories and the chance to experience fun and wonderment – all in the brilliant setting of Gisburn Forest.
To make sure you get an invitation to this free, "twilight highlight" on Saturday 12th March, get in touch with Mid Pennine Arts on 01282 421986 or visit www.midpenninearts.org.uk/bowland-explorers
---
Landmark Gets a New View

Halima Cassell's Sun Catcher was decommissioned at the end of October and has exchanged its view of the sweeping Hodder valley for a new home in the English-Welsh borders.
The four original ACE-funded Landmark pieces where due to be on show over seven weeks, between September and November 2014 – a period which extended to three months for three of the installations, and over 12 months for Sun Catcher.
A big thank you to all four artists: Halima, Philippe Handford, Geraldine Pilgrim and Salina Somalya, and to Mid Pennine Arts for managing the project.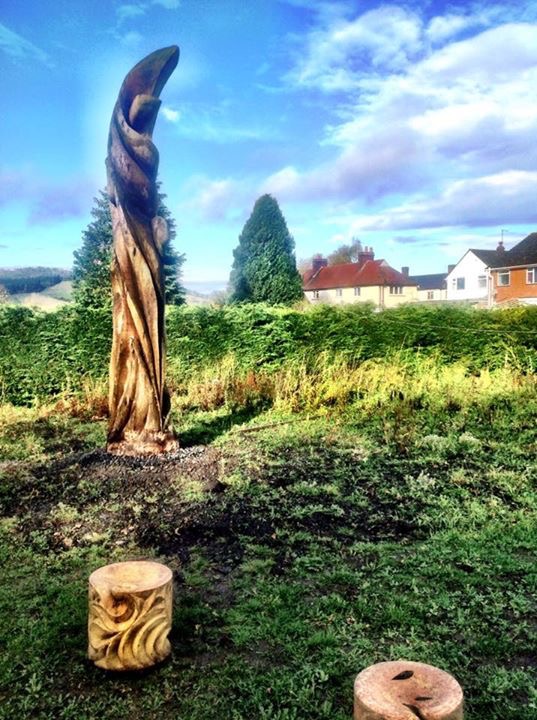 Our pictures show Sun Catcher being carefully removed from its foundations on Jeffrey Hill and in situ in its new location.
---
Your Mission: Proceed with Curiosity

Three of the Landmark sculptures have gone now, with the fourth soon to find a new home with the original artist.  Having these temporary artworks dotted around Bowland has been great fun and perhaps it has even paved the way for more contemporary pieces in the future?
In the meantime, the next stage of the ACE-funded Bowland Revealed programme is all about engagement.
Mid Pennine Arts are managing this phase of the project and summer 2015 has seen the birth of the Bowland Explorers: an intrepid crew of pith-helmeted adventurers who have pitched their tent at various locations in order to encourage like-minded folk to discover the wonders of the AONB.  To date, the Explorers have visited Cloudspotting in Gisburn Forest, Burnley Canal Festival and Blackburn Heritage Festival and are set to make an appearance at Lytham Hall in Wyre for the Hopeful & Glorious art and craft fair in November.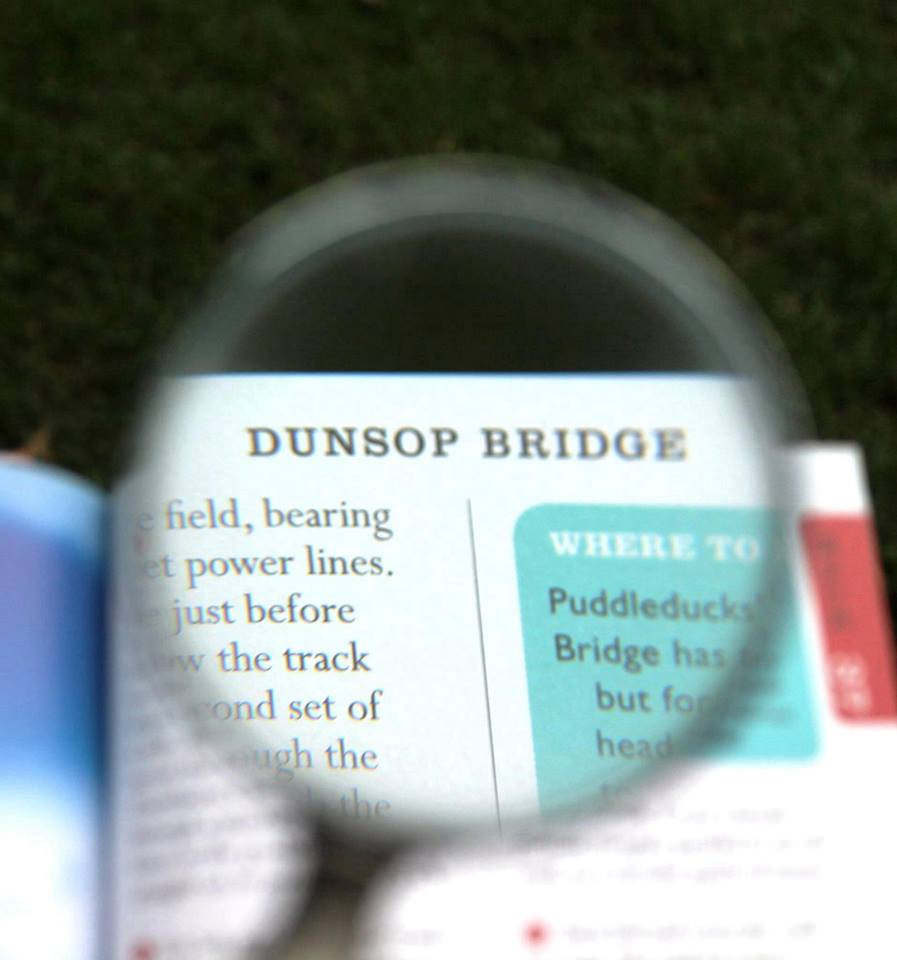 Alongside the Bowland Explorer's Club, In Situ have been working with Brierfield-based group, mums2mums, who have visited Gisburn Forest, Downham, Clitheroe Castle and Dunsop Bridge to enjoy picnics and walks and to gather inspiration for creative projects back at base.
Writer, storyteller and film maker, Steve Fairclough (in the guise of an anthropologist) has been journeying around Bowland, interviewing the people he meets on his travels and blogging about his observations.
Huckleberry Films are documenting various parts of the programme, which is due to close with a celebration delivered by family arts organisation, Wild Rumpus.
Take a look at the pictures on MPA's Flickr page to find out what's been happening so far https://www.flickr.com/photos/mpalancashire/albums/72157653933328450
---

Creativity On the Doorstep
Part of Bowland Revealed, the "Creativity within the Beauty" exhibition showcases the work of artists who have been inspired by the stunning Bowland landscape.  The exhibition runs at the Platform Gallery, Clitheroe from 24th January to 11th April and at the Artroom Gallery, Garstang from 29th January to 12th May.
Artists featuring at both venues include Andy Latham – photography, Graham Lowe – charcoal, Julie Miles – ceramics, Caroline Heap – pen, Pat Ellacot – pencil and watercolour and Salina Somalya – anodized aluminium.
Caroline Heap uses a simple pen line to bring the Bowland landscape to life. "I have been passionate about the Forest of Bowland for most of my life, taking every opportunity to explore its landscape and wildlife." says Caroline.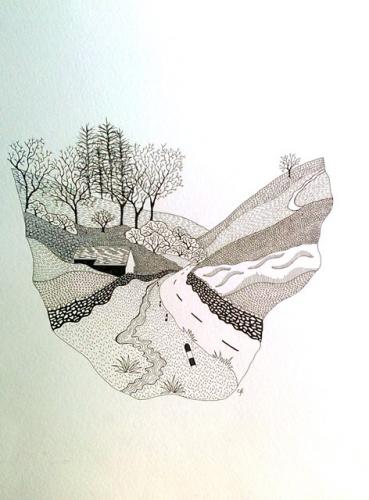 Also on show will be paintings and pastels by Dermod Ruddock, calligraphy by Norman Kelly and pencil and paper work by Sue Flowers, along with a range of work from artists Janet Robinson, Goshia Gibek, Jane Wallbank, Jill Wright, Margaret Swift, Michael Critchley and, at the Artroom Gallery, Susan Byrne.
For Platform Gallery opening times call 01200 425566, email platform [dot] gallery [at] ribblevalley [dot] gov [dot] uk or visit www.ribblevalley.gov.uk/platformgallery
For Artroom Gallery opening times call 01995 600400 or visit www.artroomgallery.co.uk
---
Catch Bowland's special Landmarks over the festive season
Out-take and Beauty, two of the artworks which have been helping us to celebrate the 50th anniversary of the AONB, have almost come to the end of their stay.  But you can still catch them until the 4th of January!
Along with Sun-catcher at Jeffrey Hill and Celeste at Gisburn Forest, the installations (which have made their homes at Langden Intake and Beacon Fell Country Park respectively) were originally due to be taken down early in November.  Thanks to interest from BBC's Countryfile programme, however, they were all given an extended stay so that visitors would have the opportunity to enjoy them over the festive period.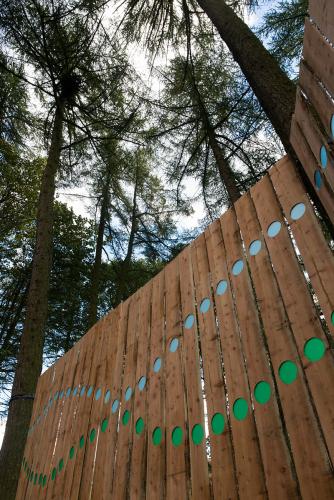 The 50th anniversary of the AONB was seen as a wonderful chance to celebrate the beauty of the Forest of Bowland landscape through these unique, contemporary artworks and artists Salina Somalya, Philippe Handford, Geraldine Pilgrim and Halima Cassell, all took the individual locations into consideration when developing their work.
The four pieces were all intended to be temporary structures and their construction and installation were designed with this in mind.  However, Halima and Salina's work is actually suitable for a longer viewing period and the opportunity for a further extension is currently being looked into for these particular pieces.
---
Bowland Revealed in a different light…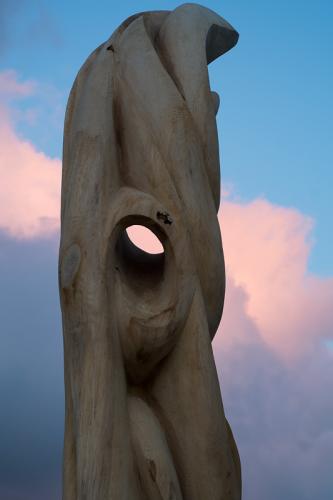 Over 50 people enjoyed a wonderful day at the end of September – touring Bowland and taking in the four ACE-funded Landmark artworks.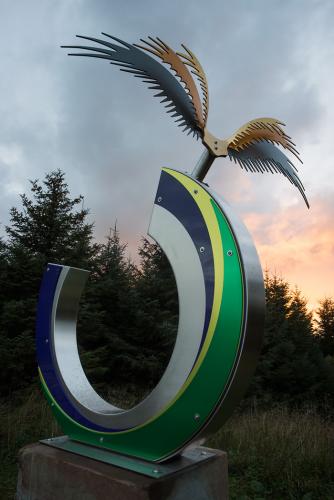 We've also had some lovely images from photographer Andy Latham, a few of which you can see on this page.  If you'd like to share your Landmarks pictures with us via Twitter - @forestofbowland#brlandmarks – we would love to see them.
We were also really excited that the BBC filmed the artworks, and featured them on the Countryfile programme on 30th November, if you missed it you can watch it on i-player – a fab showcase for the artists and for Bowland!
Thanks to everyone who took part in the '50 Years in the Making' workshops, we hope you enjoyed them!  Photos from the workshops will be featured here soon.
---
Bowland Revealed – open to view!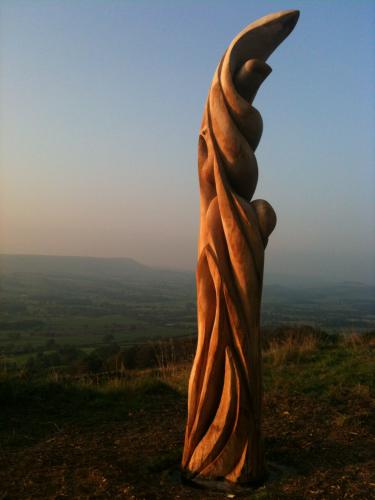 Four engaging, contemporary artworks from artists inspired by the landscape of Bowland are now officially open to view!  Gisburn Forest Hub, Langden Intake, Beacon Fell Country Park and Jeffrey Hill will each host one of these specially made pieces, designed to celebrate the 50th anniversary of the Forest of Bowland as an AONB.
The four artists: Halima Cassell, Philippe Handford, Geraldine Pilgrim and Salina Somalya have all been working hard over the summer to bring their visions to life – so now it's time to start exploring!
Each site will have information about the artwork on view, why the artists chose that particular location and what they'd like their artwork to reflect. If you'd like to find out the details before you visit, take a look at the Landmarks leaflet here.
Better still, why not join us on the official launch tour on Sunday 28th September when we'll be visiting each of the artworks and hearing directly from the artists about the inspiration behind their work?  Minibus seats are limited so book your place now via the on-line form. (the £5 one!)
The artworks will be on show until 4th January 2015 and we'd love you to share your photos via Twitter: @forestofbowland #brlandmarks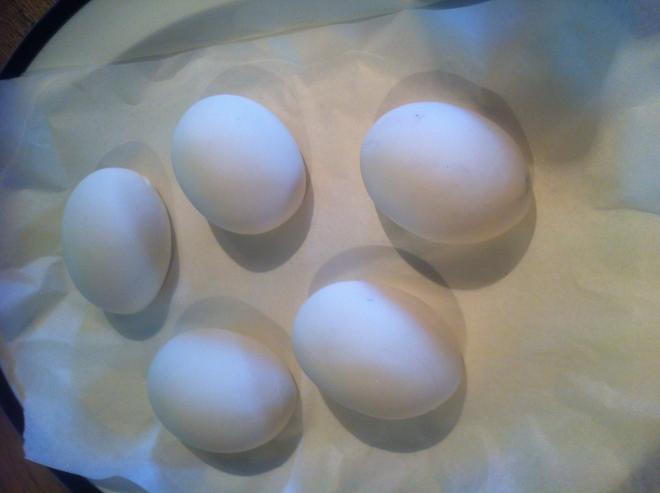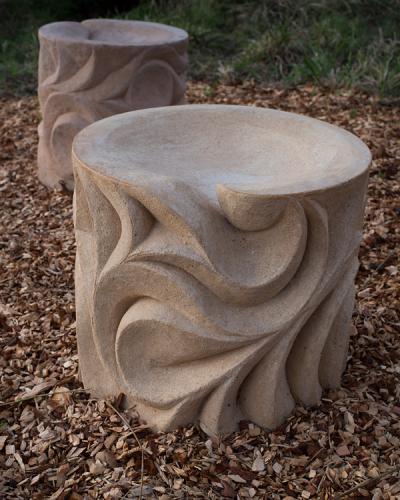 ---
A Rich Seam of Creativity
The "50 Years in the Making" creative engagement programme managed by Green Close is about to get underway with an inspirational showcase entitled, Revealed.
Profiling contemporary artists from within and around the Forest of Bowland, the showcase previews on Friday 8th August with a quirky exhibition of Edible Masterpieces in celebration of Clitheroe Food Festival.  Opening fully on Saturday 9th August, Edible Masterpieces and the Revealed exhibition can be seen at Longitude Gallery, Ribble Valley Art Studios and the Platform Gallery until 30th August.
Revealed will be followed by a series of free, family-friendly workshops, one in each of the Forest of Bowland AONB's six districts.  With the opportunity to work alongside professional artists, the sessions offer a fantastic chance to have fun and try something creative.  Workshops start on the 27th September in Wyre and run through to the 29th November in Pendle.
Winter is the time to look out for the Ribble Valley Schools' Showcase.  Featuring the work of pupils from five local schools the exhibition, entitled Looking Backwards - Looking Forwards, will run at the Platform Gallery in Clitheroe from 25th – 27th November, each school having worked with an artist to produce artwork focusing on one of the five decades between 1964 and 2014.
For full details of 50 Years in the Making, take a look at the postcard
---
Landmarks Artists Selected!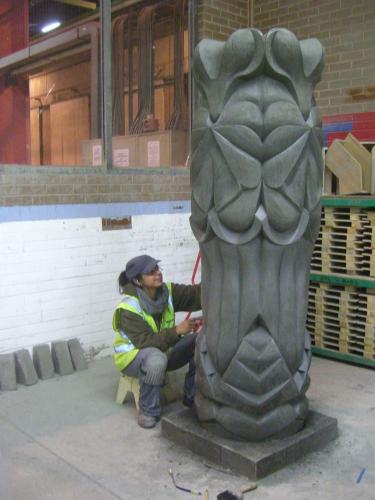 Following an overwhelming response to the call for submissions in May we are very pleased to announce that Halima Cassell, Philippe Handford, Geraldine Pilgrim and Salina Somalya will be the artists responsible for producing the four temporary, outdoor Landmarks artworks as part of Bowland Revealed.
Halima, Salina and Philippe all live locally, whilst Geraldine is London-based.  Each of the artists has been inspired by the beauty and character of Bowland and each is keen to create contemporary pieces which reflect this beauty and encourage audiences to view the landscape in new ways. 
Experienced arts organisation, Burnley-based Mid Pennine Arts, will manage the projects on the ground and help to promote the Landmarks programme.
Beacon Fell Country Park near Preston, Langden Intake in the Trough of Bowland and Stephen Park in Gisburn Forest will each host one of the new artworks, with the fourth location soon to be confirmed.  Work has now started on finalising designs and a busy couple of months lie ahead. 
The four pieces will be on show from the middle of September until the end of October so keep an eye on the website or check local press to find out all the details.