Climate change, caused by a build up of carbon dioxide and other greenhouse gases in the atmosphere, poses the most serious long term threat to our environment. It will affect our natural environment, the wildlife, the landscapes we enjoy and the services they support here in the Forest of Bowland such as agriculture, recreation and water gathering.
How can we respond to climate change?
The Forest of Bowland AONB Management Plan recognises that we need to respond to climate change and sets out a number of actions to take.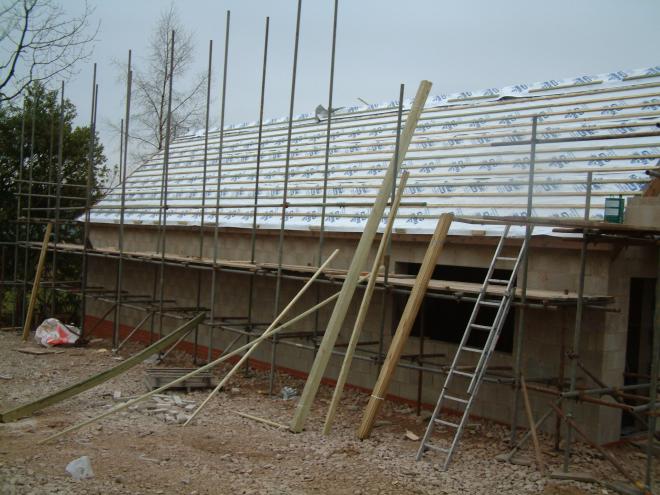 The AONB Unit has an environmental policy setting out its own strategies for environmental management.
In the Forest of Bowland we expect to see increasing temperatures, more extreme weather patterns, drier summers and wetter winters over the next 50 to 60 years. These changes in climate are likely to take place because of the existing build up of gases in our atmosphere. We need to plan how we will adapt to these changes and in order to try and reduce the serious impacts of climate change we all need to reduce our carbon emissions.
The AONB supports the Lancashire Climate Change Strategy and the various District Council policies combating carbon. The AONB also supports communities who want to reduce their carbon footprint – through improving energy efficiency, the installation of renewable energy, reducing car use and buying locally.
Forest of Bowland AONB Climate Change Seminar - July 2011
On Wednesday 13th July 2011 the Forest of Bowland AONB held a seminar about Climate Change at Clough Bottom Farm. The seminar was an opportunity to disseminate work commissioned by the AONB Climate Change theme group and included the following presentations which you can download here:
Presentations:
Carbon Reduction

Whilst there is little doubt that our climate is changing, there are many actions we can all take to reduce the amount of carbon dioxide we put into the atmosphere, and to try and limit the changes to the climate which we are now forecasting. The AONB has developed it's own carbon reduction plan and over the last year we have significantly reduced our carbon footprint from 12.28 tonnes of carbon to 9.68 tonnes, a reduction of 21%.
Actions we can take:
1. Use energy more efficiently
Making better use of energy, and therefore reducing our use of fossil fuels which pump CO2 into the atmosphere, is the essential first step to carbon reduction. Our homes and business properties account for 40% of UK carbon emissions, so if we all started reducing our energy use at home and work we could make a big impact. Improving energy efficiency can include:
insulating our lofts and walls
installing good double glazing and well fitted doors
using energy efficient lighting and heating
switching appliances off properly
It also includes using water more wisely and recycling waste – as providing clean water and disposing of waste use massive amounts of energy and therefore carbon.
Are grants available?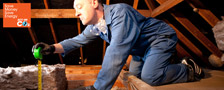 Grants are available to certain individuals and households to help improve their heating and energy efficiency. To see if you are eligible visit the Energy Saving Trust website
Domestic carbon reduction – Energy Saving Trust
Business carbon reduction – Carbon Trust
Case studies from Green Tourism Business Scheme accredited businesses in the Forest of Bowland
2. Install renewable energy
Reducing your energy use is an essential first step in cutting your carbon emissions, however, using renewable energy – power generated by renewable resources such as the sun and wind rather than by burning fossil fuels such as oil, gas and coal – will take you one step further towards becoming 'zero carbon'. One way to achieve this is to purchase your electricity and gas (if you have it) from a renewable energy supplier. Another way is to produce your own heat or power by installing renewable energy technologies in your home, business or community.
What technologies are available and most suitable for my situation?
There are a number of different renewable technologies available to generate your own electricity or heat, for more information about these, to select the most suitable, and to find out how to contact certified suppliers and installers visit the Energy Saving Trust website.
Is there grant support available?
Within the Forest of Bowland our Sustinable Development Fund (SDF) has supported a number of renewable energy projects developed by communities, schools and businesses.  However, new renewable energy installations receiving public grants are now (from October 2011) no longer eligible to claim Feed In Tariffs (FITs) so we will no longer fund installation projects through SDF.
Public grants for households, businesses, commuity groups and charities  installing renewable electricity are no longer available in the UK, as the feed in tariff scheme is now in operation and this will generate you income as you generate power.  However, if you can raise funds from private sector grants, charitable trusts, community share issues or loans then you may still be eligible to claim the FITs from your installation. Check with your Microgreneration Certificated installer for information visit http://www.microgenerationcertification.org/
Some power companies are now offering loans to domestic customers to help them to install micro-renewables, so ask your green supplier if they can help you.
Will I need planning permission?
The General Permitted Development Order 1995 (GPDO) applying to dwelling houses allows a certain amount of development without planning permission. This can include putting photovoltaic tiles on your roof, or installing a biomass boiler or a combined heat and power unit.
However, installing a ground source heat pump often involves excavating a large area which requires planning permission. Wind turbines, depending on their height and location, or any energy installation located away from your dwelling may also need permission.
For more information visit the Energy Saving Trust
Within the Forest of Bowland Area of Outstanding Natural Beauty planning permissions are dealt with by the individual district councils. However, these planning authorities do have to pay due regard to the AONB designation.
A position statement was approved by the Forest of Bowland AONB Joint Advisory Committee in April 2011, setting out guidance for the siting of renewable energy developments. This advice is to guide planning authorities and developers and should be consulted if you are planning to install any renewable energy on your land or property. View the Renewable Energy Position Statement
For more information speak to your local planning department:
Craven  Lancaster Pendle  Preston  Ribble Valley Wyre
What about older and historic buildings?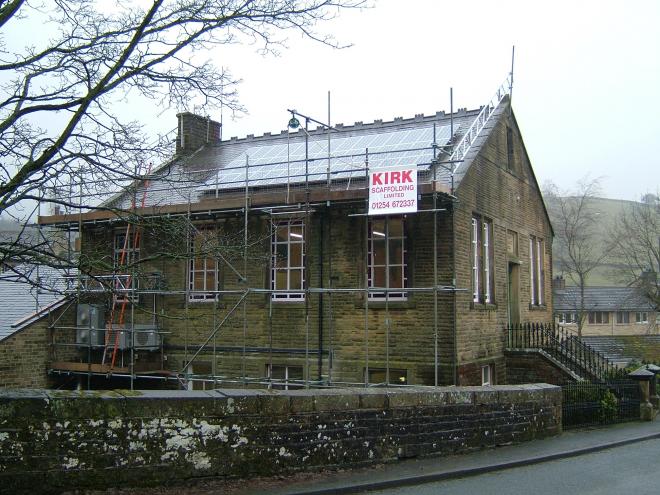 Living in a conservation area doesn't automatically mean you need planning permission to install renewable energy schemes. However, if you live in a listed building you will require planning permission and possibly Listed Building Consent, and you should contact your local planning department for advice.
English Heritage have produced guides to help historic building owners to improve energy efficiency or add renewable energy in a sympathetic way. For more information go to their climate change website or download this document Building Regulations and Historic Buildings
How effective is renewable energy?
Read an evaluation of a number of different renewable technologies installed with SDF support in the Forest of Bowland AONB
View this case study for Waddow Hall which highlights 'Energy Efficiency in an older building'
3. Reduce car use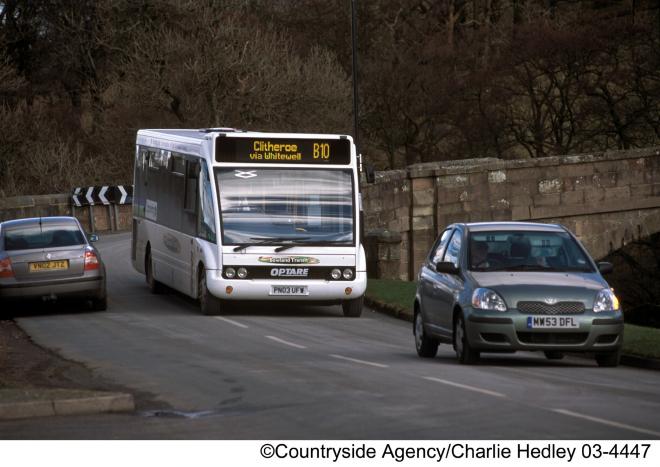 It is estimated that transport makes up 25% of the UK's carbon emissions – and generally the larger carbon footprint generated by people who live in the countryside is a direct result of their need to use private cars. In a protected landscape like the Forest of Bowland we want to help people reduce car use to reduce congestion and unsightly parking – as well as to reduce carbon. For that reason we encourage visitors:
to arrive by public transport if at all possible - some accommodation providers will collect you from the station in Clitheroe, Settle or Lancaster, and there are good bus links into Clitheroe from East Lancashire, North Yorkshire and Preston; and through the Lune Valley
to enjoy walking and cycling in the local area rather than taking the car out every day
to use local buses during their stay
What about other vehicles?
Generally the carbon emissions of new cars are falling rapidly as technology improves and specifications rise; but those of buses, vans and HGVs remain high. Deliveries in rural areas therefore contribute to our high carbon footprints – another reason to 'buy local' – see below.  Buses become less carbon hungry per person the more passengers they carry – so if we all use them our footprints will shrink!
One thing we can all do is leave the car at home one day a week: and cut our transport emissions by 10-20%

Some people are converting to recycled biodiesel– the kind you make from used chip fat. This is carbon neutral as it only emits the carbon equivalent to that produced when the original crops were grown. Here is an example we supported through SDF – Clapham biodiesel co-operative
4. Buy local

Buying local produce such as meat, milk, cheese and vegetables reduces our carbon emissions by cutting down on transport use, but it also supports our local economy by generating income for local producers, shops and services.
Further information about local producers in the Forest of Bowland
5. Farm carbon
Farming and agriculture accounts for half of the of the UK's non CO2 greenhouse gas emissions - visit the Committee on Climate Change website
These include some of the potentially more harmful emissions such as nitrous oxide and methane. Nitrous oxide is released when fertilisers are applied too heavily to the land; methane is produced by the digestive processes of livestock.
How can farmers help?
These emissions can be reduced by increasing the efficiency of fertiliser applications, and by attempting to capture methane and using anaerobic digestion to generate heat from it.
Farmers and landowners are also well placed to help store carbon on their land – through careful management of their soils, in particular peat or blanket bog; and via woodland management.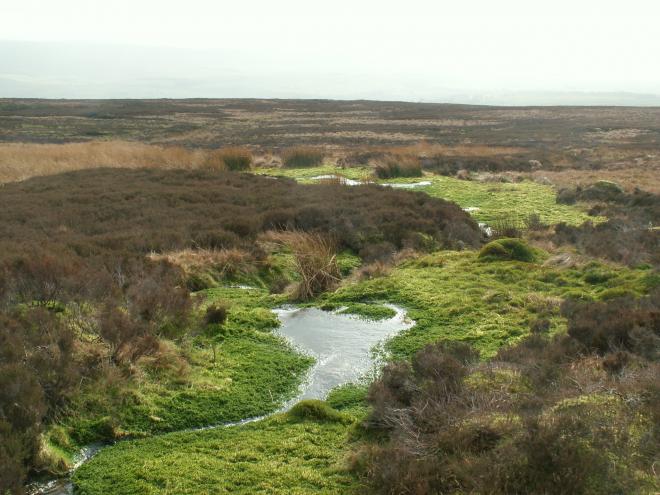 Blanket  bog is found on the higher areas of the Bowland fells. Where this bog is healthy and the sphagnum mosses are growing, it acts as an important carbon store as layers of peat are laid down over time. However, in some areas the peat has dried out and is being eroded  - by wind, rain, grazing and walkers – and in these areas carbon is being released into the atmosphere. These eroded areas can be restored, by re-wetting the peat and restoring the vegetation to protect it, and hopefully they will regenerate and begin to store carbon again in the future.
The Lancashire Peat Project was set up in 2009 to co-ordinate peatland restoration projects across the county and to ensure that the major peat areas at risk are tackled. It also seeks to co-ordinate and disseminate research into peat and carbon; and to raise awareness of the issues.
Woodland planting and management are also important contributors to carbon storage within the Bowland environment. Newly planted trees store carbon as they grow – as well as stabilising soils and providing an important habitat. Managing our existing woodlands can produce woodfuel, an important carbon neutral heat source, as well as improving biodiversity and recreational assets. For more information visit Lancashire County Council website
6. Get involved
Apart from taking your own actions to reduce your carbon footprint, you can also get involved and encourage others to take part too.
Businesses
If you are a tourism business in the Forest of Bowland AONB why not contact Bowland Experience Ltd a not for profit company which supports and promotes tourism businesses in a sustainable way.
Schools
Schools might want to get involved with the Eco Schools Project.  Many schools in the Forest of Bowland are already Bronze and Silver award holders under this scheme; and three primaries (Brabins Endowed school in Chipping, Quernmore, and Waddington and West Bradford) are holders of the prestigious green flag.
Individuals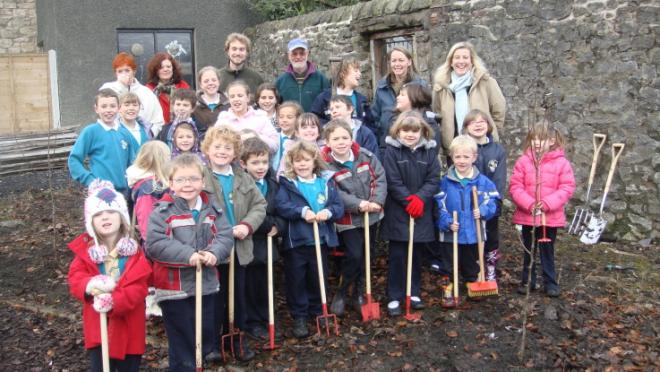 As an individual you might want to get involved in the Transition Town movement which seeks to raise awareness and action on dealing with the impacts of peak oil – there are groups in Clitheroe and Lancaster. There are also other groups such as LESS in Lancaster, Green Settle and BEST in Bentham.
Adaptation
According to the UK Government, "Adapting to climate change means adapting the way we do things - in all areas of our lives - to respond to the changing circumstances. It means not only protecting against negative impacts, but also making us better able to take advantage of any benefits."
Climate change could have significant impacts on communities and the environment in the Forest of Bowland. The likelihood and magnitude of these impacts will vary according to localities and the individual. It is important that we become "climate ready" by developing an understanding about how climate change is likely to affect our area and then ensure that we take appropriate actions to prepare for the impacts of climate change. This may include improving education, awareness and training on the impacts of climate change, as well as taking tangible steps such as planting drought-resistant seeds and creating protection systems.
In the Forest of Bowland AONB the most likely climate changes we will experience are:
Temperatures will increase: both maximum and minimum mean daily temperatures in summer and winter will increase by 0.6 to 1.5oC by 2060

 

Rainfall will increase in winter and decrease in summer: winter mean daily rainfall is likely to increase to between 3.1 and 5.1mm in the 2020's and to no more than 6.7mm in the north east of Bowland by 2070. In summertime the mean daily rainfall is likely to be between 2.3 and 3.9mm in the 2020's and could fall to no less than 1.4mm by 2070

 

Extreme weather events are likely to increase: by the 2020's the warmest day in summer is likely to have risen by 5oC and the wettest day in winter is likely to have up to 19.4mm more rain
In order to assess how these likely changes in climate will affect us we have developed a Climate Adaptation Plan for the Forest of Bowland AONB.
A climate change adaptation plan assesses the impact of climate change on the landscape, the historic environment, biodiversity and geodiversity, and other ecosystem services such as access and recreation. The study then suggests how we can best respond to these impacts by making our habitats more resilient, by changing practices and supporting the local communities and economy.  Download a copy of the Climate Change Adaptation action plan for the Forest of Bowland AONB and Appendices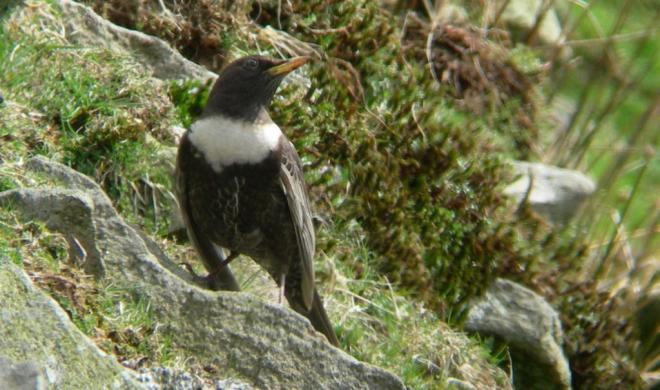 A report published by the UK's Inter Agency Climate Change Forum looks at the impacts of climate change on biodiversity. This includes details on how woodland and peatland act as carbon stores, and how increases in flash flooding can erode our soils. It also outlines how climate changes are affecting the distribution of particular species like the Ring Ouzel in the Forest of Bowland, and how our early Springs are upsetting the inter relationships between food supplies and young birds.