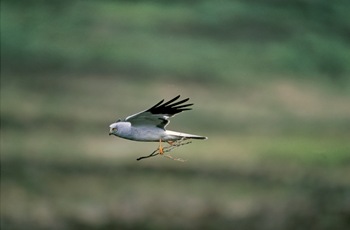 Habitat & Behaviour:
Only one word can describe watching a Hen Harrier over moorland in spring - breathtaking. The graceful mastery of the air it displays as it quarters the ground hunting and the tumbling; its 'sky-dancing' display flight are a joy to watch.
The United Utilities' Bowland estate is the single most important site for breeding hen harriers in England and United Utilities has been working with the RSPB since the early 1980's to conserve this hugely important population. The estate now regularly holds between six and ten pairs every year which can be anywhere between 50 and 90 percent of the English breeding population. Most year, 1-2 pairs of hen harrier also nest on moorland elsewhere in Bowland, away from the UU estate.
Identification & Voice:
Female Hen Harriers are a rich brown in colour with dark barring on the tail and wings and a distinctive white rump. The males are smaller and a beautiful pearly grey in colour with distinctive black wingtips.  It is silent except when nesting when it makes a rapid 'yikkering' call during its sky-dance display along with various other scolding calls.
The RSPB continues to work with United Utilities to monitor the fortunes of this special bird every year, through a programme of intensive fieldwork carried out by staff and volunteers.
Listen to Natural England's Stephen Murphy with BBC Radio 4's presenter Helen Mark as she sees her first hen harrier in the Forest of Bowland.
It look's like you don't have Adobe Flash Player installed. Get it now.
//
---
Listen to the Hen Harrier: