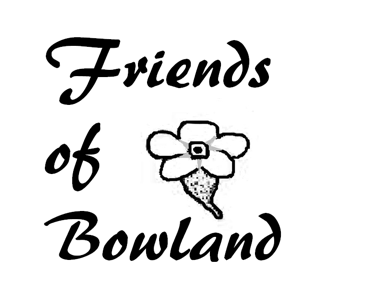 If you are interested in conserving and/or learning about the Bowland landscape and its wildlife and flora then we would be delighted to welcome you to our regular events and practical tasks. (The logo of the Friends of Bowland shows the flower Myosotis x bollandica - a variety of forget me not that was first identified in Bowland)
Link to the independent Friends of Bowland website - containing some of the following details and lots more. .
Tasks and events in 2017
The Friends of Bowland plan to have at least one event every month, apart from December and January. We aim to have at least one task day every month - apart from Dec. We have walks and outdoor wildlife events in the spring, summer and autumn and talks as the days shorten.  Details of tasks and events for 2017 are shown in the independent Friends of Bowland Google calendar - and also in this pdf
The second event for 2017 is a talk by Martin Colledge titled "Gisburn Forest: Past, Present and Future" on Thurs 16th Mar 7.30pm, Tosside Community Hall. Martin is the Forestry Commission's Beat Manager for North Lancashire and South East Cumbria.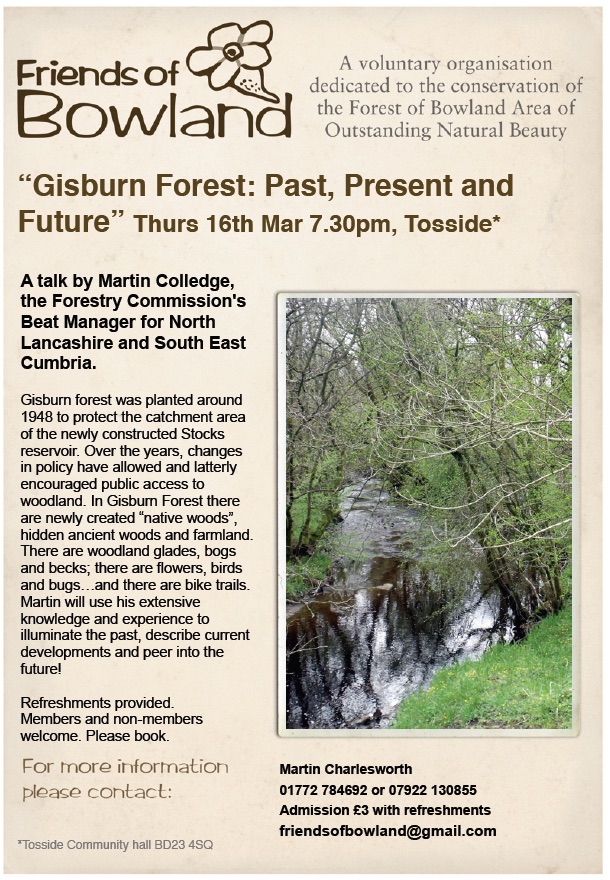 The first event in 2017 was held on Wed 15th Feb at St Mary's Church Hall Sabden and was a slideshow on Hidden Pendle deliverd by Duncan Armstrong. You can read more about it on the flyer shown here.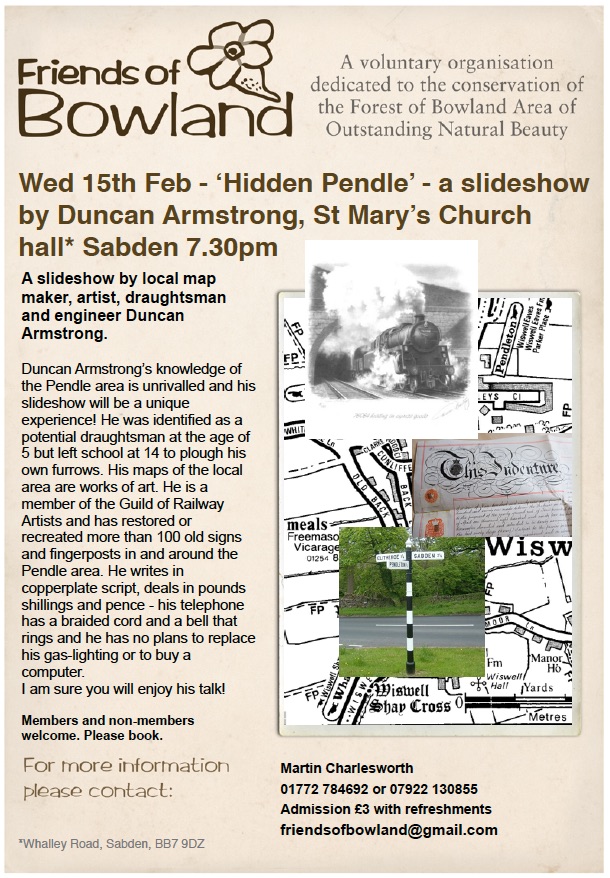 Practical tasks
We aim to have a pleasant day out doing some useful practical work. Tea/coffee, biscuits in the morning and soup and rolls provided for lunch. Tools and gloves provided. All are welcome. We work till lunchtime - sometimes to 3pm but no problem if anyone wishes to come later or leave early.  Contact Martin Charlesworth for further details 01772 784692 or email friendsofbowland@gmail.com.
A complete list of task days for 2016 and a summary of what we did is below.
All task dates are generally the last Thursday of the month - no task in Dec but we will have a walk in Gisburn Forest on Sat 10th Dec and visit where we have worked. Dogs welcome!
Martin's Friends of Bowland blog
Summer has arrived! Wind, rain, plummeting temperatures, soggy fields, mud - February was better. We had a walk around Keasden and Mewith a couple of weeks ago. The weather then , however, was perfect for walking; calm and warm with high cloud protecting us from the sun. Unusually we had a couple of dogs on our walk. It was hot enough for them to leap into streams and even a bath en route....but rather than have me describe the walk I thought it would be good to hear from someone else so here is Margaret's account of our walk - 
"It was a pleasure to be back in Keasden, especially in fine weather: I have spent many hours wandering around the valley and on the moor in the pouring rain, carefully mapping the vegetation, so it was wonderful to be able to point my eyes forward and enjoy the views – and what stunning views we had! The Three Peaks were visible in the distance and our route gave us views across open moorland, traditional meadows with high, drystone walls and green, wooded valleys.
Although we had to view the Three Peaks from afar, we were accompanied by two four-legged friends. Finn the Border Terrier, a well-bred chap who marched merrily along and Dill, the Ormskirk Heeler, a veteran of countless days of fieldwork, who demonstrated his ability to seek out water troughs, other people's food and other creatures' former-food.
We assembled outside St. Matthew's Church and began our tour with a look inside where we quietly admired the lovely old building. Our next stop was the old Temperance Hall, recently purchased with a view to conversion into a camping barn.
Our route took us to Mewith Head Hall, a fine old building with a fascinating history. Additional research has revealed it sports 'slobbered water-shot masonry' a fact Martin wishes he'd known at the time, but has referred to in his new play, "Dog on an Old Tin Bath'. More of that later, but our tour guide was able to tell us something of the history of the building, including its association with the Quakers and as a home for displaced Austrian Jews fleeing the Nazis.
We ate lunch on a grassy slope, close to a 'refurbished' property, while marvelling how kind the weather had been to us. The return journey to the church gave us plenty of opportunities to study the local flora. Many of the plants we found were used in the past to treat all sorts of ailments, so I have listed a few here, along with some quotes from a Nineteenth Century herbal.
Bedstraw: "it should be gathered when the flowers are not quite blown, and dried in the shade. An infusion of it will cure the most violent bleedings of the nose and almost any other evacuations of blood."
Salad Burnet: "…is called a cordial and a sudorific, and is recommended in fevers. They put it also into cool tankards, like borage. The root is a good astringent; dried and powdered it stops fluxes."
Cuckoo Flower / Ladies Smock / Mayflower: "The juice of the fresh leaves is to be used; it is an excellent diuretic and is good in the gravel and all suppressions of the urine. It also opens obstructions, and is good in the jaundice and the green sickness; and is a course against the scurvy."
Eyebright: "This plant has always been famous for dimness of sight, but whether experience warrants the character that is given of it is uncertain. The juice is very diuretic."
Mouse-ear Hawkweed: "A decoction of the fresh gathered herb is excellent against the bleeding of the piles: and the leaves boiled in milk may be applied externally."
Self-heal: "The dried herb made into an infusion and sweetened with honey is good against a sore throat and ulcers of the mouth."
Sorrel: "The leaves eaten as a salad (sic), or the juice taken are excellent against the scurvy. The seeds are astringent and may be given in powder for fluxes."
Tormentil: "the root is cordial as well as astringent, and operates a little by sweat: this decoction is therefore very serviceable in fevers, attended with purgings."
Thanks must to go George, our intrepid guide, who lead us along paths we would otherwise have not recognised as paths, while entertaining us with anecdotes from the perspective of a pioneering chap, bringing civilisation to the natives in the form of broadband and sensible waterproofs.
Martin's play, 'Dog on an Old Tin Bath' will premiere in Slaidburn Village Hall at Michaelmas. Without giving too much away, the Reverend Ebeneezer Soberside takes on the Parish of Mewith–with-Broadband, only to find the verger, Bartholomew Spout has sold off the Temperance Hall to his cousin, Jude the Obscure from deepest Dorest who plans to turn it into a camp barn. Worse still, the good Reverend has to deal with his attraction to the daughter of the local squire, who lives in a fine house with slobbered watershot masonry. Squire Teazle sees the Reverend as a good man to reign in the wayward behaviour of Myrtle and invites him to supper in the hope his knowledge of rusticated shafts and moulded flanges will inspire her to take more interest in the preservation of the family home. Myrtle only has eyes for Bartholomew's cousin Jude, but when she discovers just how obscure he is, she runs away with a group of travelling players after being swept off her feet by their leader's impressive iambic pentameter." 
Task days - dates and summary
Jan 28th Gisburn Forest. 10am School Lane Car park. Woodland management
Feb 11th Thursday. Parkland tree guards Leagram Mill, Chipping. 10am
Feb 20th Saturday. Hedge planting at Waddington. We are going to plant 60ms of hedging shrubs that will be in time match up with the traditional laid hedge along Edisford Road. Meet at 10am at the last house on the left hand side leaving Waddington on the Edisford Road. Tea/coffe and biscuits. Gloves and tools and training provided.
Feb 25th Gisburn Forest. 10am School Lane Car park. Woodland management
Thur 10th Mar. Parkland tree guards Leagram Mill, Chipping. 10am A fantastic opportunity to learn or practise knocking in nails, cutting rails, planting trees, put up nest boxes and how to use a fencing tool. (This ancient skill is usually passed down from master to apprentice after a suitable period - normally at least 7 years).
Sat 19th Mar - tree planting mass task (1,000 meters of hedgerow to be precise) in West Bradford adjacent to the Ribble Way with the Ribble Rivers Trust (hard to say when you've had a pint and you will deserve one if you come along). The weather will be improving by then and unlike many conservation tasks undertaken in solitude on a rain swept hillside you will for this task have delightful company (no guarantees given) in the sylvan setting of the historic hamlet of West Bradford.
No experience is necessary and all our volunteers are provided with training and equipment- everyone is welcome no matter what your ability.  Just a few hours work can make a huge difference.
TIME: 9.00am - 16.00pm
LOCATION: Parking at West Bradford Bridge or Laneside Farm, West Bradford, BB7 4QJ Map
BRING: Outdoor clothing (long sleeved shirts and trousers advisable), wellies and a packed lunch. Toilet facilities are available at the farm.
Mar 31st Gisburn Forest. 10am School Lane Car park. Woodland management
Apr 28th
May 26th
Jun 30th
Jul 28th
Aug 24th Wednesday not Thursday!
Sep 29th
Oct 27th
Nov 24th
Last year we averaged 2 task days a month and additional tasks will be slotted in this year on other
days of the week including weekends. For examples of different tasks see the review below. Tools,
training and gloves etc are provided. Tea/coffee biscuits and a light lunch also provided. All ages
and abilities welcome.
*Tree nursery at Stocks boardhouse, can you help? We will soon be planting seeds and cuttings at our tree nursery next to UU's Boardhouse just outside Slaidburn. If you live locally and can drop in occasionally (especially in the summer during dry spells - there may be one or two!) then we would be delighted to have your help. Drop me a line or phone me for further details.
We aim to have a pleasant day out doing some useful practical work. Tea/coffee, biscuits in the morning and soup and rolls provided for lunch. Tools and gloves provided. All are welcome. We work until about 3pm but no problem if anyone wishes to do a half day. There will be other tasks fitted in throughout the year - some at weekends. Contact Martin Charlesworth for further details 01772 784692 or email friendsofbowland@gmail.com
*Tree nursery at Stocks boardhouse, can you help? We will soon be planting seeds and cuttings at our tree nursery next to UU's Boardhouse just outside Slaidburn. If you live locally and can drop in occasionally (especially in the summer during dry spells - there may be one or two!) then we would be delighted to have your help. Drop me a line or phone me for further details.
END OF FRIENDS OF BOWLAND CONTENT
ARCHIVE MATERIAL
CANCELLED! Jul 30th Joint FOB /Craven Conservation Group event. Gisburn Forest wildlife survey - particularly invertebrates and rare plants.
Thurs 27th Oct AGM and talk by John Alpe farmer at New Launde Farm Whitewell. John's farm overlooks the Inn at Whitewell, a lovely location but how do you make a living in such a remote area - meadows that flood, rocky outcrops, boulder strewn fields, limestone caves, fell land, SSSIs and prehistoric sites?
Sat 19th Nov - An evening with Duncan Armstrong, engineer, artist and mapmaker with a talk on "Unknown Pendle". Venue Sabden start 7.30pm. Duncan inhabits a parallel universe to that in which most of us live where gas lamps hiss, engines are steam powered, maps are hand drawn, clocks are wound, telephones have cords and dials and invoices are totalled in pounds, shillings and pence. Duncan is defiantly predecimal and immersed in the skills of the industrial revolution. His slide show will reveal unknown sides to Pendle and much more!
Dec 10th Walk in Gisburn Forest visiting work site(s). Dogs welcome!
Committee meetings and Planning meetings
Feb 1st Planning meeting
Mar 7th Committee meeting
If you are keen to get involved with planning and organising then please drop a line to Jane or Martin. The Planning meetings, held every month or so, are specifically to maintain a forward programme of events, talks and tasks. The Committee meetings, which are held less frequently, are to discuss other matters.
Possibilities for working with the Forest of Bowland Area of Outstanding Natural Beauty
(AONB) and other organisations in 2016
Landmark Trees project (AONB)
Wildflowers for the Meadows project (AONB)
The Development stage of the Pendle Hill Landscape Partnership project 2018-2021 which could include habitat, boundary and visitor surveys amongst other things (AONB)
Festival Bowland events (AONB and partners)
Bee surveys/projects (AONB, YDMT)
Previous tasks and events
REPORT FOR FRIENDS OF BOWLAND AGM, 21st OCT 2015
Tasks undertaken and events held since 2014 AGM held on 16th April 14
24th Apr 14 Hedgeplanting at Chipping for Leagram estate
21st Jul 14 Clear Beck SSSI balsam pulling at Wray
28th Aug 14 Black Hill Sabden locating and protecting oak trees for Dave Padley LCC
15th Se 14 Talk on Waders at Caton by Gavin Thomas
30th Sep 14 Bottom Laithe Gisburn Forest raking up with WLT and FC
25th Oct 14 Ribchester Roman Museum (Parade Helmet on loan from BM ) and walk
30th Oct Stocks task for UU
8th Nov Leagram walk around old deer park boundary with Graham Cooper
15th Nov 14 Task at Anne's wood Earby for the Woodland Trust £60 income plus £60
contribution to 1st aid course for Martin Charlesworth
20th Nov 14 Raking roadside verge Waddington Fell
22nd Nov 14 Newton Community Woodland task
5th Dec 14 Quakers in Settle talk
10th Dec 14 Swift boxes construction task
27th Jan 15 Stocks task for UU
29th Jan 15 Flying Shavings talk Sabden
24th Feb 15 Kirk Mill talk Chipping
25th Feb 15 Stocks task for UU
26th Mar 15 Stocks task for UU
20th Apr 15 Bird boxes construction task at Carwags
27th Apr 15 Juniper recording at Langden with Sarah Robinson
26th May 15 Tree Nursery Stocks task
30th May 15 Mini bioblitz Newton
4th Jun 15 Himalayan Balsam pulling task at Clear Beck SSSI Wray
11th June 15 Walk and talk Long Preston Deeps
20th Jun 15 Walk at New Laithe (Breaks Farm)
24th Jun 15 Tree nursery Stocks task
25th Jul 15 Freshwater Ecology with Yorkshire Naturalists Union at Langden
30th July 15 Melancholy Thistle in Newton task (removing Woundwort)
15th Aug 15 Pendle walk with Graham Cooper
24th Aug 15 Melancholy thistle task in Newton and some gardening
25th Aug 15 Raking of verges in Newton village
29th Aug 15 Raking roadside verges Tinklers Lane
1st Sep 15 Raking of verges Easington
15th Sep 15 Bentham brushcutting
19th Sep 15 Orchard walk Ribchester
22nd Sep Worsaw Hill hawthorne removal task for Natural England
13th Oct 15 Bottom Laithe raking for FC
21st Oct 15 AGM and Talk by Laura Sivell Private life of Butterflies
25 Practical tasks
6 Guided walks
5 Talks
2 Training/Education days
Clients/sponsors/partners for practical work: Leagram estate, Natural England, LCC, WLT, Forestry
Commission, UU, Woodland Trust, Newton PC, RSPB, Forest of Bowland AONB Unit
Annual insurance premium £233.01 paid in May 2015
Additional tools donated by UU
Tasks, events and talks held since the AGM up to Christmas 2015
28th Oct 15 Practical task Gisburn Forest
12th Nov talk by Tanya St Pierre on bees at Bentham
21st Nov Walk around Bolton by Bowland
26th Nov Practical task Gisburn Forest
30th Nov Leagram Mill tree guards with Tarja Wilson
5th Dec Walk in Gisburn Forest (3 men and a dog)
8th Dec Visit Clearbeck house to view potential lake task
And some more details about some of those events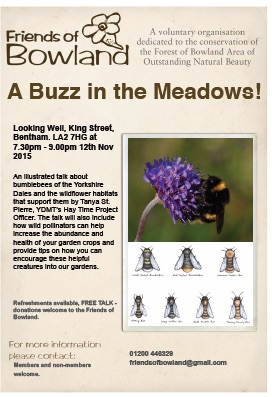 Thurs Nov 12th Bees and Wildflowers talk, Bentham. Such topical subjects! A talk by the Yorkshire Dales Haytime Project Officer, Tanya St Pierre on bumble bees at the popular Looking Well centre in the centre of Bentham.
Wed 21st Oct AGM and talk by Laura Sivell on 'The private life of butterflies'. Amazing photography of butterflies, eggs, caterpillars and chrysalis stages with expert commentary by Laura Sivell at a new venue for us...which not many people found on a wet and windy evening.
Sat 19th Sept Apples and orchard walk with Martin Charlesworth.  An invigorating walk in good weather with an all too brief break for te and apple cake in Ribchester.
Sat Aug 15th   Pendle walk, with Graham Cooper. A fantastic walk over what appeared at first to be a featureless area on top of Pendle. We learned of meetings of Chartists that help shape our democratic future at the 'Chartists Well', walked along the 'coffin road' and eneded up at Jepps Grave before returning to our start passing views of Wymondhouses. Knowledgeable commentary by Graham Cooper all the way round and the heavy clouds missed us - a warm day but with just the right amount of breeze to keep us cool.
Sat July 25th Freshwater Ecology If you've ever wondered about the creatures that live in our unpolluted Bowland streams, and wanted to know more, then this really is your chance.  Peter and Sharon Flint are experts in this field, and are part of a wider Yorkshire Naturalists Union 'expedition' to Dunsop Bridge on 25th July.  They have generously offered to open their own exploration of the Langdon Brook to members of Friends of Bowland. We meet at 10.30. pm at the car parking area by the Trough road south of Sykes Farm (SD632511).  Please bring appropriate footwear, clothing and some lunch.
 June 20th     New Laithe Farm, Newton
June 11th    YDMT/ Long Preston Deeps talk/walk. An illustrated talk and walk by Dave Tayler (Yorkshire Dales Millennium Trust) and Adrian Shepherd (Floodplain Project Officer) on Thursday 11th June 2015 at 6.30 pm at Clark's Old School, Wigglesworth. At Long Preston, the River Ribble still floods naturally every year over the adjacent land, which is of national importance for its wildlife. It is also of particular archaeological interest. For the last 10 years, this area has been home to an exciting and forward-thinking project which aims to boost both its conservation and its economic value through working with local landowners, farmers and other interests. After a short introduction to the area and the project, Dave and Adrian will lead us on to the site as far as the new bird hide.  Although this is a short walk, it includes one stile. Please brings waterproofs and stout shoes/boots (waders not necessary!)
May 30th.    Newton Burial Ground wildlife survey 9am. This burial ground is no longer used for burials and has been left untended and unmanaged (apart from the odd cut) for decades. Help us discover what lives and grows there! It is unsafe to park on the road so please park in the public car park (on the left hand side leaving Newton on the Slaidburn road) and then walk back through the village towards Dunsop, past the village hall and turn 1st right onto Back Lane. The graveyard is 200 yards up the slight hill on the left. It's only 10 minutes walk. We 'll be looking for such 'beasts' as wild flowers, mosses and liverworts, bugs, beetles and bees, moths and butterflies, woodlice, and hopefully, small mammals if we can borrow some live traps.  Exactly which groups we record is a bit flexible, depending partly on the weather, and also on who turns up on the day.   Anyone with ID guides to these (or other) groups please to bring them.
Incredible Edible - a talk by Barry Ogden and Ian Meyer in Ribchester Sat 25th April. Founded only 7 years ago by Pam Warhurst in Todmorden, West Yorkshire, the Incredible Edible movement has since spread far and wide. IE grows and campaigns for local food, grown by and available free to local people. IE Ramsbottom started out with a community herb garden and a derelict orchard, and is now involved in growing vegetables in raised beds around the town, and has also created mini-orchards, wildlife meadows and ponds. It works with local schools, and provides work experience for young people, and holds regular 'Apple Days' to celebrate orchards and apples. It has even created an edible beer garden at a local pub!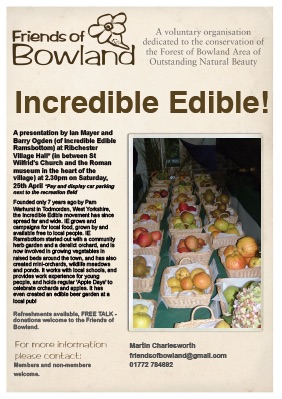 The early history of Kirk Mill Chipping - a talk by Muriel Lord, St Mary's church hall Chipping 24th Feb. 
This ancient water powered mill, originally a corn mill, was developed in the late 18th century for cotton spinning using Arkwright's inventions. It was one of the earliest factories in the world and is the last to survive, little altered and has always been in industrial use. With the help of industrial historians and members of Chipping Local History Society, Muriel has collected a wealth of information about the history of the the mill before it became used for chairmaking from about 1870. Stories of local gentry, famous inventors and London foundlings will illustrate the early social history, predating the more familiar tales of the mill in the times of  HJ Berry's chair works.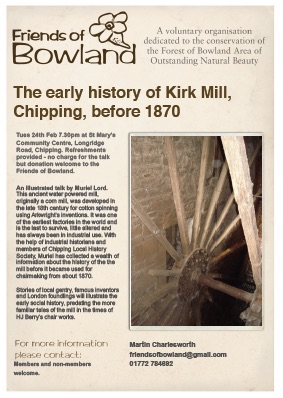 'Flying shavings' - a talk by green wood worker Richard Law, Thursday 29th Jan 2015 in Sabden Richard Law is a green wood craftsman who works in Strid wood, Bolton Abbey. He works with traditional tools (chisels, pole lathe and shaving horse). He creates furniture from Strid Wood trees, using crafts that are thousands of years old. His pieces emphasise the natural sinuousness of the indigenous hardwoods and use traditional construction methods.
Please click on the image to open a pdf showing details of the event.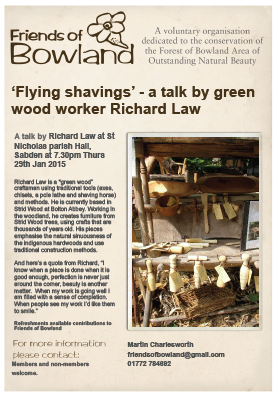 Early Quakers in Newton and Settle - Jean Asher's talk at the Quaker Meeting House, Settle at 7.30pm, Friday 5th December was attended by over 20 people. Jean gave an entertaining account of the origins of Quakersim, the organsation of early Quaker meetings and subsequent trials and tribulations of members that persuaded many of them, despite a perilous sea voyage and uncertainties to be found in the new country, to depart for America to join William Penn in Pennsylvania.
Please click on the image to open a pdf showing details of the event.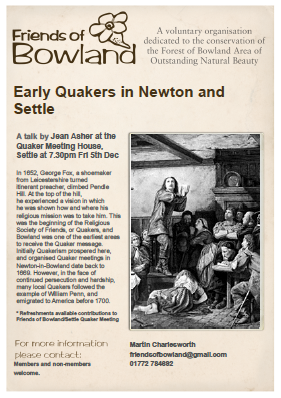 Leagram mediaeval Deer-park - Graham Cooper led a brave group of walkers on this rather dull and wet day. The poor weather was mitigated by the unfolding story of Leagram deer park which had unique issues of being a privately owned deer park surrounded on most sides by Royal forest. Graham discussed the evidence, still clearly visible, for several deer leaps - also known as 'salters' - as we walked the perimeter of the old park.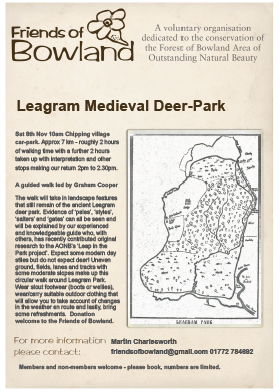 Ribchester and its Roman helmet - Martin Charlesworth lead a walk from the middle of Ribchester to the almshouses at Stydd and the ancient Stydd church via the excavated Roman baths off Greenside. This was followed by a visit to the granaries and then into the museum to see the famous Roman parade helmet on loan from the Bristish Museum. In the afternoon he led a walk out onto Hothersall Lane passing Hothersall Hall before returning across open fields with views over the Ribble and Pendle hill in the distance.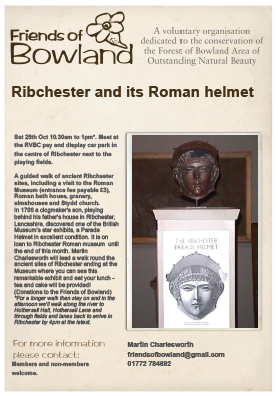 The RSPB Bowland wader project  - Gavin Thomas gave a well documented talk on succeessful efforts to improve habitat for waders in Bowland. The improved habitat leads to greater breeding success - more food and better nest sites. The better numbers in turn help improve viability of chicks - safety in numbers! A virtuos circle but in need of constant hard work.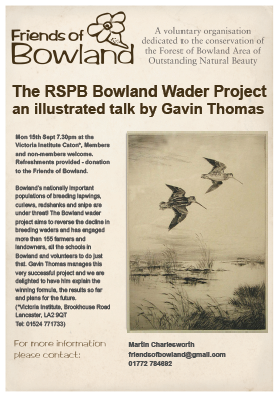 Mediaeval markets in Bowland - Alan Crosby is a renowned speaker on local history as well as researcher and author and his talk on mediaeval markets in and around Bowland was the main attraction to entice people to come to our AGM. When he had finished we understood that the viability of mediaeval markets was driven by the same economic forces that today results in Tesco, Booths, Sainsburys and Lidl chasing customesr in Clitheroe whilst Slaidburn has one part-time Post Office/General store.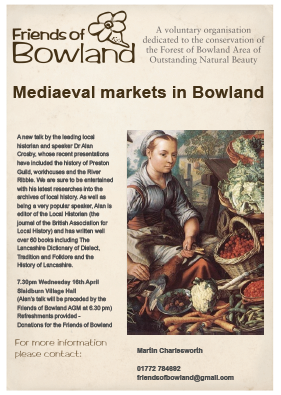 Garden history - If there is a more enthusiastic speaker than Ruth Thurnhill on her chosen subject, garden history, then I would be very surprised. When Ruth finished her high-paced talk she paused to add emphasis to her crushing finale, 'This is only a fraction of what there is to say about garden design!.' The audience shivered with anticipation....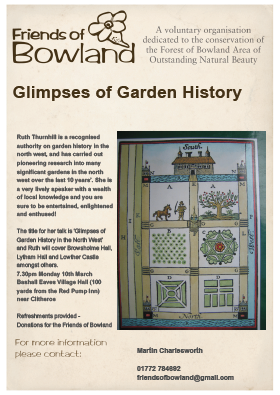 Traditional haymaking in Transylvania  - Sarah Robinson went to Transylvania to experience the traditional life of people still used to bartering and exchanging goods and services - waking early and wallking to the top of the carpathian mountains to scythe and rake hay to provide feed for animals through the harsh winter. She slept (fitfully!) in a high level barn fitted with a rudimentary alarm to warn of bears and partook in the celebrations that followed the hay making. All this was conveyed in a pleasant, soothing rambling story that described and explained an alternative life story to that of the rest of us. A wonderful story!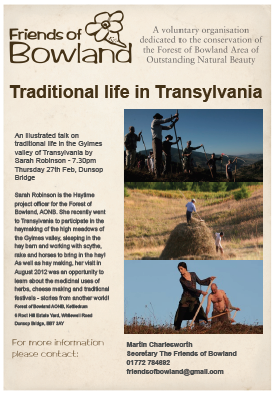 Previous practical tasks
Newton community woodland - The small community woodland at Newton is a site that we visit twice a year. We're in our 3rd year and this time we were felling a few trees and making room for more biodiversity.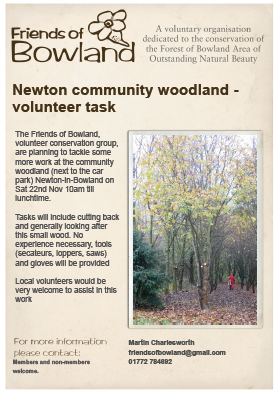 Anne's wood Earby Earby is not in the Forest of Bowland AONB ...but it isn't very far and the Woodland Trust asked us if we would improve a small woodland there that was planted a dozen or so years ago. Paths have become obstructed and overgrown and the Friends of Bowland worked with some local volunteers to cut back and trim with loppers and saws.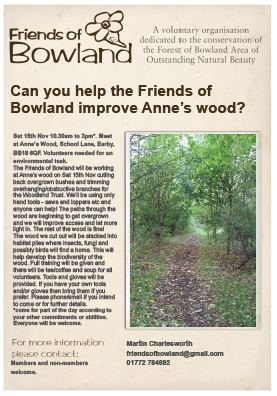 About the Friends of Bowland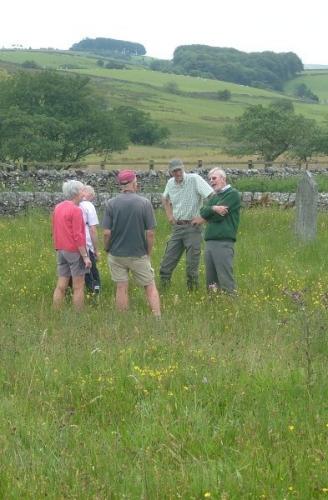 These are our aims:
to promote practical conservation in Bowland
to promote environmental knowledge and training - in particular to benefit Bowland flora and fauna
to promote historical and local research relating to the landscape of Bowland
to hold educational and social events likely to be of interest to Friends
And in addition we will: 
be open to all people
be a means of getting advice and recruiting volunteers for projects
raise funds to promote these aims, in particular where funds may be inaccessible to the AONB unit
And lastly, but quite importantly, we will work with the AONB unit and other relevant groups/organisations to avoid duplication and waste of resources
Why join the Friends of Bowland?
Help to look after Bowland's heritage for future generations
Learn new skills and hobbies from experts
Find out and appreciate more about Bowland's heritage
Meet other people who care about Bowland - make new friends
Share your knowledge and skills influence the future!
Membership and how to join
Here's how to join online through internet banking - Send £10 for single adult membership, £5 for under 16 or £25 for family membership for the year 2013/14 to the Friends of Bowland bank account - sort code 089299 account code 65639034 ALSO SEND an email with your name, address and phone number to friendsofbowland@gmail.com with your bank account number. This is very important as we will need to match payments with names. NOTE: You may or may not be able to send a limited message with an internet banking payment. The Co-op allows for this on a regular payment but not on a one off. That's why we need an email as well as the payment. Alternatively, you may wish to send a cheque to the Friends of Bowland, ℅ The Forest of Bowland AONB, Kettledrum, 6 Root Hill Estate Yard, Whitewell Road, Dunsop Bridge, Lancashire BB7 3AY. Please include your name, address, phone and email details (if you have one).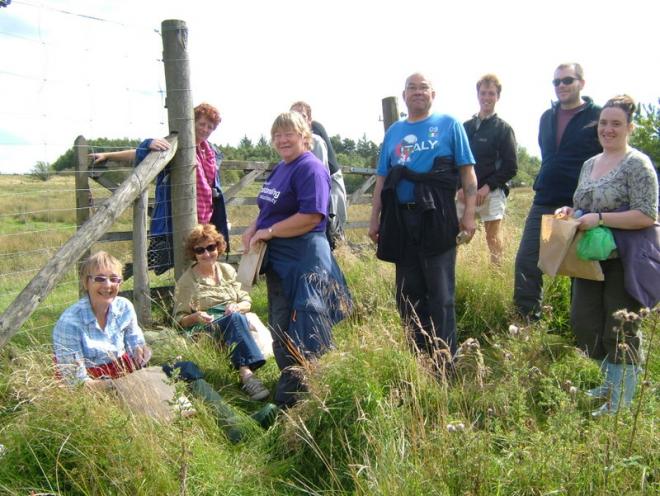 Deleted events
Sat 17th Oct Wildlife audit Newton Quaker Graveyard. We'll be revisiting the graveyard we fisrt visited on May 30th looking at the plants/insects/animals that are there in the Autumn. It is unsafe to park on the road so please park in the public car park (on the left hand side leaving Newton on the Slaidburn road) and then walk back through the village towards Dunsop, past the village hall and turn 1st right onto Back Lane. The graveyard is 200 yards up the slight hill on the left. It's only 10 minutes walk. Bring any ID guides!
Sat 24th Oct A walk with Graham Wilkinson near Chipping. Graham's book on local walks, the proceeds of which fund local charities, is now in its second edition. He knows the area like the back of his hand and I can almost guarantee that he will lead us back to Chipping.....in time to visit the Tillotsons for a refreshing de-brief.
Mon 18th Apr Wild Flowers in Lancashire. An illustrated talk by John Ball at Clitheroe Library starting at 7.30pm. John is an award-winning volunteer with the Lancashire Wildlife Trust and co-ordinator of the Lancashire Botany Group. His talks are rapidly gaining a reputation for attracting large audiences. In this very popular presentation, he goes right back to the philosophers of Ancient Greece, looks at Lancashire's own unique contribution to field botany in the 19th century, before focussing on some of the exciting wild flowers that we can find here for ourselves today.
Apr 23rd Newton Burial Ground survey
May Bleasdale event
1st June 6.30pm Grassland and Invertebrate Conservation on a Ribblesdale Hill Farm. Join Tom Lord at Lower Winskill Farm for a farm walk discovering flowers and insects and catching up on Tom's conservation work. Rocky and uneven ground but without difficult gradients.  Maximum of 20 places, booking essential. Please book with Dave Tayler by email at david.tayler@ydmt.org
This event is being run by Craven Conservation Group but Friends of Bowland members are invited to join them. If numbers are exceeded another date may become available. It is suggested that people car share where possible.
Not aware of a charge though donations may be asked for.
Information on the farm can be found at www.lowerwinskill.co.uk/